How to do Visa run to Moc Bai from Ho Chi Minh?
Posted on:
VISA RUN TO MOC BAI BORDER – GROUND BORDER
(Vietnam – Cambodia border, 70 km away from HCMC)
Your approval letter was processed successfully by us, and we handled you the original letter to you at your place or our office. (ORDER HERE: xinvisavietnam@gmail.com)
STEP 1: Pls bring the Approval letter along with you and prepare at least 2 photos of you (passport size with white background) and some cash to pay for Stamp fee later at arrival border
Single entry: 25$ for 1 month or 3 month
Multiple entries: 50$ for 1 month and  3 months, 95$ for 6 months, 135$ for 1 year.
STEP 2: Take a bus to Moc Bai border, bus ticket from 1,5$ - 12$ optional ( see Bus options below at bottom)(*)
STEP 3:  You do exit Vietnam and get the Exit stamp on your passport at Vietnam Immigration Dept at Moc Bai border (Vietnam side)
STEP 4: You enter Cambodia with an Entrance stamp on your passport at Cambodia Immigration Dept at Bavet border (Cambodia side)
Cambodia visa: you will process on the spot and Cambodia visa fee is 35$ 
Depending on your purposes, you can leave Cambodia right away or stay in Cambodia for a while alternative. Then You do the exit procedure with exit stamp on your passport and leave Cambodia.
STEP 5: You go back to Moc Bai border, fill in the entry visa form, and present the original letter, original passport, photos you prepared in step 1, and pay for the stamp fee and get your visa done. The actual process may take around 15-20 minutes without hassle or trouble.
(*)BUS OPTIONS: Take a bus to Moc Bai from HCMC
Option 1: take a public bus No.703 at Bus station in Park 23/9 (at the corner of Pham Ngu Lao and Cong Quynh street, opposite to Thai Binh Market.
Frequency: 30 minutes/1 bus. And just go to Moc Bai Border
Price: 1,5$/1 way
Option 2: Book any bus at any office at Pham Ngu Lao street (Sapaco is popular one). You can buy it yourself. Be noted that this bus go to Phnompenh
Frequency: depend on the bus company you choose, and it go to Phnompenh.
Price: 10-12$/1way
Suggestion: If you just want to do a visa run and come back right away, you should choose the bus in option 1. 
But if you have plan to have holliday in Cambodia to worth your Cambodia visa, you can choose Option 2.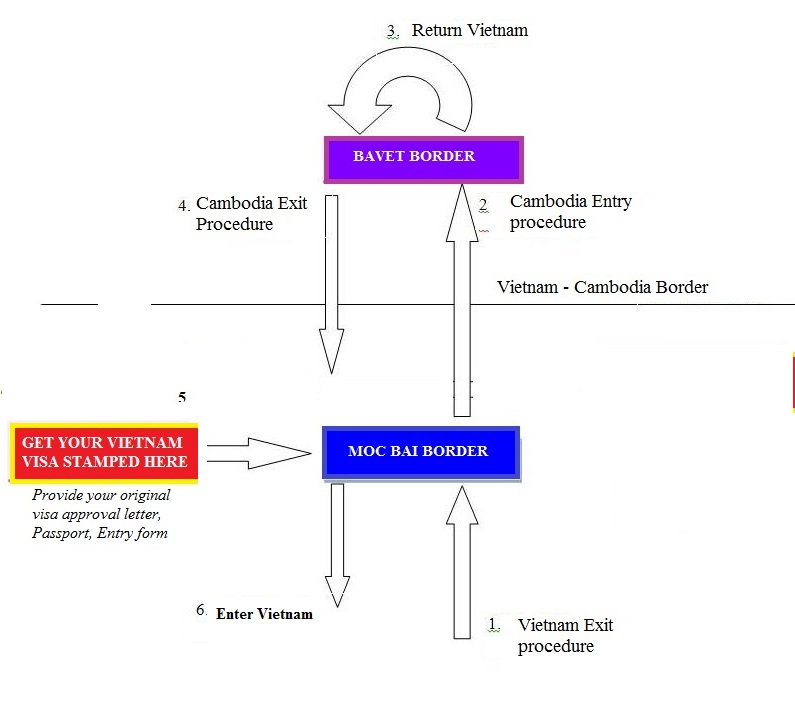 See more: VISA FEE